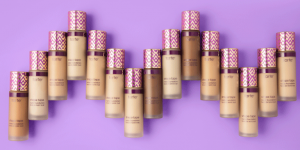 Earlier this year Tarte released the very anticipated, Shape Tape Foundation. With two versions, hydrating and matte finish, makeup junkees around the world thought there would be a match for everyone.
Unfortunately, this was not the case.
Tarte originally released the foundation with 15 shades, from which only three were dedicated to deeper complexions. Meanwhile, competitor brands like Estēe Lauder provide 42 shades from which over 15 are targeted for deeper tones.
After receiving severe backlash, Tarte released an apology through their social media account "… We all just got so caught up in #shapetapenation and seeing your tweets asking for it… We wanted to get the product out as fast as possible, & we made the decision to move forward before all the shades were ready to go…We're doing everything in our power to bring those unfinished shades to market as fast as we can, at any cost. We CAN and WILL DO BETTER." 
Makeup gurus like Jeffree Star and Manny MUA agreed with the public and did not promote the anticipated product. Other artist like Nikkie De Jager whom had initially promoted the foundation, decided to remove their videos to stand with the community, " I am putting my Tarte Shape Tape video offline. Thank you for showing me the importance of showcasing my voice.. the Tarte shade range is an absolute mess and I should've spoken up about it more than I did" she tweeted.
This brings us to question, how diverse is the makeup industry in reality? Cosmetics has had a tremendous growth recently but are they catering to all clients? Emerging brans like FENTY and KKW promise to do so but only users will tell.
Although Tarte later released three additional shades, the foundation has no comparison to the popularity its sister concealer has. All we can hope is that this shows the industry the power consumers really have.